Key points
The death toll related to antimicrobial resistance (AMR) is estimated to reach 10 million people annually by the year 2050
Pharma pollution in India has been identified as a major contributor to the problem
NAM initiated a long-term engagement with pharma companies based in India that we are invested in
We issued two reports exposing the extent of pharma pollution in India
As a result of our engagement, the PSCI developed an action plan to address the problem
The growth in superbugs is a major public health crisis facing our world today. And in India, where nearly 60,0001 new-borns die every year from bacterial infections that are resistant to antibiotics, the problem is exacerbated by pharmaceutical water pollution.
India's chemical industry is the main bulk provider of pharmaceuticals to the Western world. With an expected growth of up to USD100 billion by 20252, the pharmaceutical industry is one of the fastest growing segments of the Indian economy and a major supplier to global pharmaceutical companies. While India's pharma industry is a major driver of the local economy, it also contributes to country's severe water pollution crisis by dumping waste generated during the manufacturing process into the water supply. There is now a compelling body of research on the negative effects resulting from the accumulation of pharmaceuticals in the environment, which range from the near elimination of entire species to the spread of antimicrobial resistance (AMR).3
The death toll related to antimicrobial resistance (AMR) is estimated to reach 10 million people annually by the year 20504 and pharma pollution in India has been identified as a major culprit. A recent study5 reported an antibiotic-resistant gene originally discovered in bacteria from India was found 8,000 miles away in a remote Arctic environment. Researchers believe the gene, found in bacteria in the soil of a Norwegian archipelago, made the trek in less than three years, highlighting the speed with which antibiotic resistance can spread on a global scale.
For Nordea Asset Management's Responsible Investments team (NAM's RI team), phama pollution is critically important as it has the potential to impact people not just in India, but across the globe. Because drug manufacturing sites in India are part of the supply chain of companies we invest in, we took a field trip to Hyderabad to better understand the situation. There, we witnessed fierce industrial pollution surrounding manufacturing sites and observed its adverse impact on local communities. Additionally, we saw a lack of transparency of pharma companies we invest in regarding their management of water/supply chain risk in India.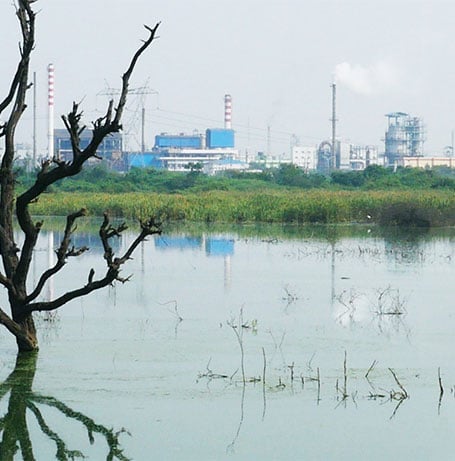 Consequently, we initiated a long-term engagement with pharma companies that have supply chains in India. Field trips like this ensure that our focus on ESG is reflected in the companies that we invest in. Engaging with companies help us understand the challenges they face, as well as how they impact local communities.
As a part of our engagement, we commissioned an independent on-the-ground investigation into the environmental and health impacts of pharmaceutical manufacturing in Hyderabad and, in 2016, published a report on the results. The report, Impacts of Pharmaceutical Pollution on Communities and Environment in India, highlights the local impact of drug pollution, the opaque pharma supply chains, and the lack of regulatory action. We communicated the report's findings to the pharma companies we invest in as well as the industry-led Pharmaceutical Supply Chain Initiative (PSCI) and relevant stakeholders.
In 2018, our RI team commissioned a follow-up investigation in India. The results of the second study were presented in a publication titled Hyderabad's pharmaceutical pollution crisis. The report concluded that the situation in Hyderabad had not improved over the previous two years. Water samples taken adjacent to selected pharma sites found heavy metals and industrial solvents commonly used in pharmaceutical manufacturing. Some samples showed concentrations that were higher than maximum regulatory limits or safe exposure levels. This report was also published and shared with the pharma industry and other relevant stakeholders.
Antimicrobial resistance is one of the largest global threats today and kills more than 700,000 people annually.
Our reports were released amidst repeated warnings from the scientific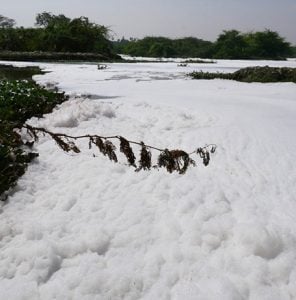 community about the dire state of India's water resources. The compound impact of climate change, lack of regulations and a rapidly growing population are putting an unbearable strain on the country's water sources—and the problem is only expected to worsen. "Beyond the social impact, India's economy depends on a reliable supply of clean water. The effects of water pollution therefore present a material risk for businesses operating or using suppliers in India, and by extension to investors," said Eric Pedersen, Head of Responsible Investments at Nordea Asset Management.
The industry took action
In response to the findings and our investor expectations, PSCI developed an action plan, taking an industry-wide approach to address pharmaceuticals in Indian manufacturing and capability training of Indian pharma suppliers/ manufacturers and auditors among other things. This included PSCI members mapping their Indian suppliers against the sites mentioned in the report. Many companies in this industry-level engagement have improved their supply chain and water risk management, especially related to sourcing from India.
Our RI team has established a very constructive engagement with PSCI and the pharma industry. We have been invited to discuss our expectations on pharma supply chain management and manufacturing practices at the PSCI annual meetings and at Indian supplier conferences. As the only investor member of PSCI's Advisory Panel, we continue to meet regularly with pharma industry leaders to discuss progress. Most of our expectations have been met; the pharma industry has taken important steps to engage with suppliers and address water pollution. Companies have taken an industry approach to address water pollution related to drug manufacturing in India and the release of active pharmaceuticals into the environment. In 2019 over 200 suppliers attended PSCIs supplier conferences in India.
The PSCI principles, which all member organisations have to adhere to, were reviewed in 2019 and include sustainable sourcing, managing releases of active pharmaceuticals into the environment and human rights. The number of PSCI's membership continues to grow and a sub-team has been established in India.
"The effects of water pollution present a material risk for businesses operating or using suppliers in India, and by extension to investors." Eric Pedersen, Head of Responsible Investments at Nordea Asset Management
Draft bill to limit concentrations
To promote better business practices we also engage with other organisations. NAM has co-hosted AMR and water pollution events at the large World Water Week Conference in Stockholm three years in a row. We have been a member of the Expert Committee of The AMR Benchmark, which tracks how 30 large pharmaceutical companies are managing drug resistance, including responsible manufacturing. The ongoing Coronavirus situation emphasises the importance of responsible action and collaboration by the pharma sector and the continued need for AMR stewardship.
In early 2020, the Indian Ministry of Environment, Forest and Climate Change published a draft bill that introduces limits on the concentrations of antibiotics permitted in wastewater released by pharmaceutical factories. We commend the Indian government on this very important step and will continue our on-going dialogue with the pharma industry on water pollution.